Medical, educational, and correctional institutions present their own unique set of electrical challenges. When it comes to meeting these specialized needs, B&J Electric of Poland has the knowledge and professional experience to ensure your institution receives the required reliable and consistent power.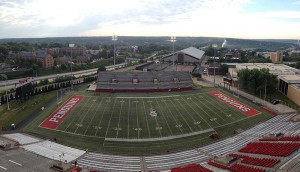 Our certified electricians specialize in complex, ground-up electrical construction with unique day-to-day administration and operational demands. Anything less could put an institution's performance, and even its people, at risk. We work closely with you to ensure all of your project needs are met.
B&J Electric of Poland has done extensive work with government buildings, as well as local and regional educational institutions, including high schools, medical schools, and colleges and universities. We also serve facilities in the health care industry, as well as correctional facilities. Our clients include the Ohio National Guard, Elkton Federal Correctional Institution, Youngstown State University, Kent State University, Northeast Ohio Medical University, and several local high schools.
Dormitory building upgrades
Athletic facility lighting
Office and classroom upgrades
Fire alarm upgrades
Laboratory build-outs
Parking lot lighting
Maintenance
High-voltage work
Preventive maintenance